Pop Culture Parody Sticker Packs
round stickers Pop Culture Parody Sticker Packs
round stickers Pop Culture Parody Sticker Packs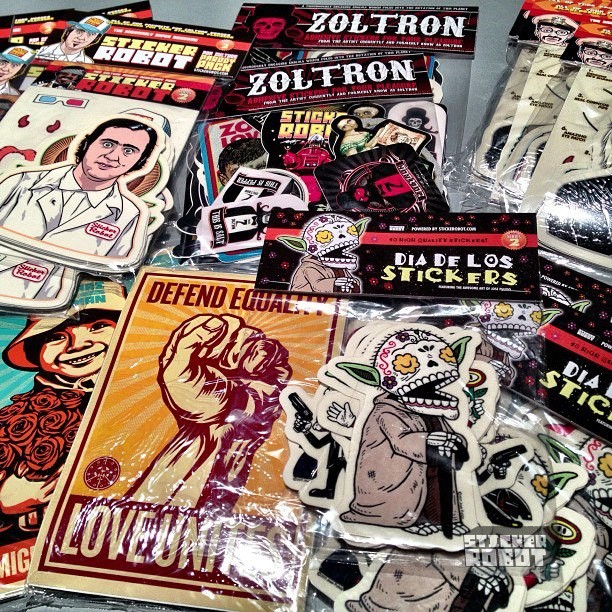 Categories Art & Design Artist Stickers Clear Vinyl Stickers Custom Stickers Customers Stickers Die Cut Stickers Free Stickers Interviews Kiss Cut Stickers Laptop Stickers Political Stickers Random Awesomeness Random Stickers Social Sticker Campaigns Sticker Deals Sticker Friends & Fans Sticker Packs Sticker Tutorials Street Art Stickers
Each pack contains 10 custom stickers printed on clear vinyl with doubles of each of 5 pop culture characters.
The long awaited Pop Culture Parody Pack, Series 2  Sticker Packs are available in the Sticker Robot store now!
Size: Assorted Size Stickers Quantity: 12 Stickers per Pack Free U.S. Shipping!
Interviews Tyler Stout You Are Beautiful Prolly is not Probably Skinner David Lanham Gig Art Posters Supersonic Electronic All Hail the Black Market Hydro74 Ty! Billi Kid Shawnimals Cryptik Mishka NYC ABCNT Travis Millard Dronex Jose Pulido Marq Spusta 1000 Styles Chump Magic Zombie Yeti Citizen Panic Jimbo Philips
Size: Assorted Stickers Quantity: 36 Total Stickers per Pack Free U.S. Shipping!
Each pack comes with the freshest, sickest collection of some of our most beloved pop culture heroes, hand picked and custom illustrated from another one of our anonymous creative heroes. As always, the stickers are silkscreened with the highest quality materials available.
Brand New Pop Culture Parody Sticker Packs By Zoltron Black Dec 10th Sticker Packs Comments
Popular Posts 32 Amazing Pop Culture Hero Portraits… Sticker Tutorial: How to Make Custom Laptop Stickers 5 Tips On How To Print The Best Quality Full Color Stickers Tutorial: Drawing, Designing and Printing Die Cut Stickers 10 Visual Artists You Should Be Following on Instagram
Custom diecuts, clear vinyl, printed by Sticker Robot. 10 unique stickers per pack.
Series 2 introduces 5 brand new heroes of pop culture past, including Latka, Barbarella, Ming the Merciless, Lord Humungous, and Isaac from the Loveboat.
If you don't know who the pop culture heroes are, trust us. They are genuine heroes of the highest degree. Also comes with two Pop Culture Parody Accessory Packs™!
10 stickers per pack + 2 accessory kits with 13 stickers per card. That's 36 stickers for $10. Sweeeeeeet! Printed by Sticker Robot.
Click on any of the images below to see details or head over to the Sticker Robot Store and pick up some new sticker packs! And 36 stickers for $10 ? that's pretty sweeeeeet!
Custom diecuts, clear vinyl, backprinting. Each pack contains 5 pop culture heroes and the amazing pop culture parody accessory pack. Doubled up for your pleasure = 12 stickers per pack.
Can you name these 5 Pop Culture Heroes ? leave a comment below and we'll pick a name out at random for a free sticker pack…