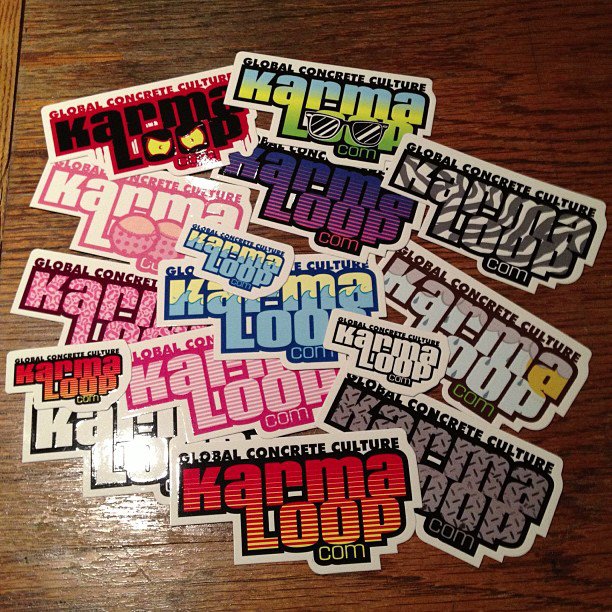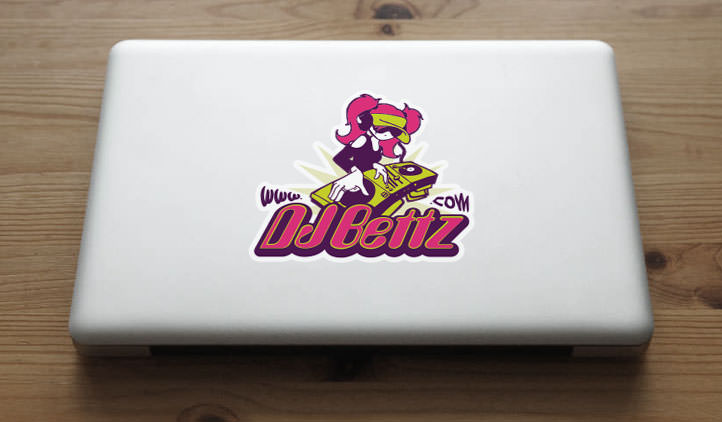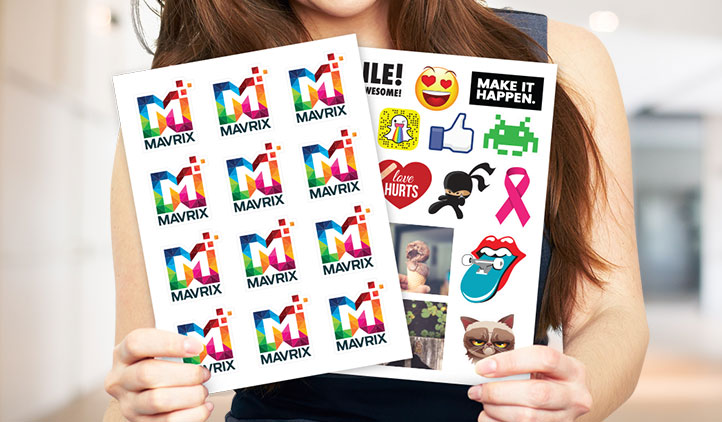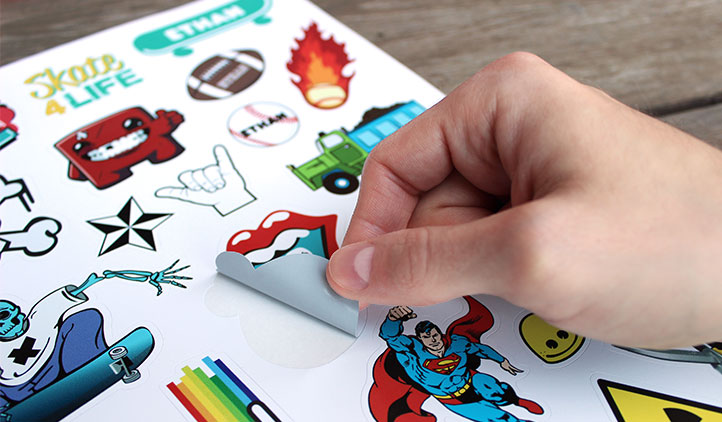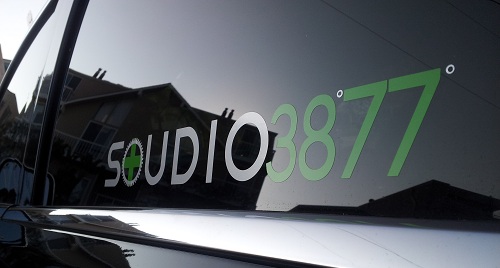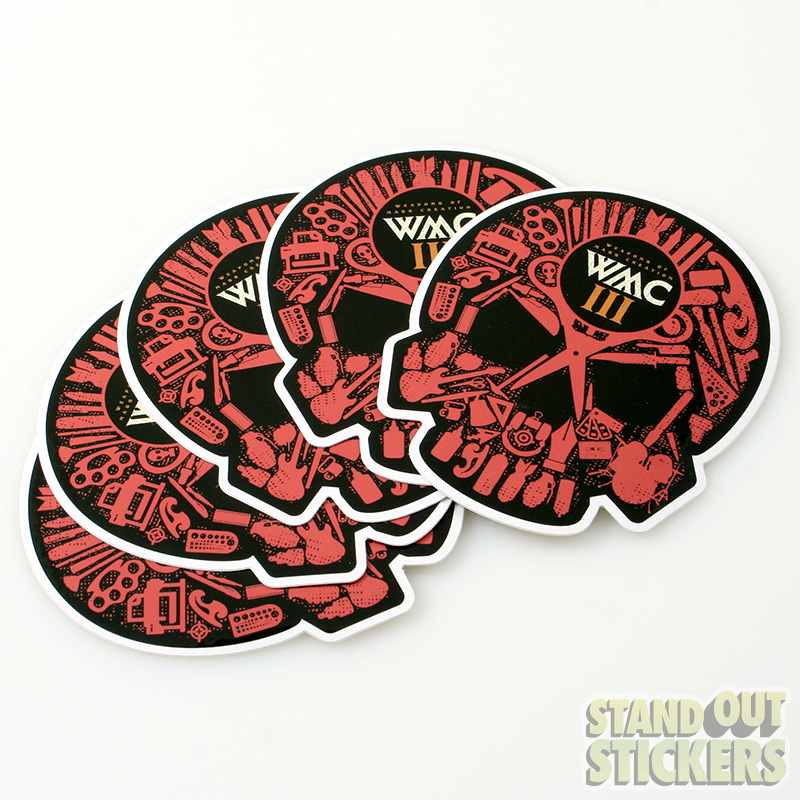 Die Cut Stickers are one color stickers cut out of solid color vinyl and will have no background of any kind when applied.  Application of our die-cuts results in a clean, seamless, "painted-on" look for your single color logo or text.  We custom quote every order based on your needs, start with our Free Quote form and we'll return a custom quote via e-mail the same business day.
Great indoors or outdoors for car windows, signage, or product labels. Made into any Shape and Size – No Die Fees, no design templates needed. Perfect for smooth surfaces – Die-Cuts designed to be applied to smooth glass, painted metal and some smooth painted plastics.
Waterproof with a 3+ Year Outdoor Life – No need to worry about durability, we use materials built for outdoors. Clear Application Tape is applied to ensure an easy transfer to your surface. Produced in the USA with materials made in the USA.
Artwork GuidelinesArtwork FilesAvailable ColorsProduction TimesMinimum OrderFinishing Options
email us : [email protected] , includes the size of your sign, the needed lettering, and any other relevant details such as how much artwork you have, and what colors you would like to use. We will send you a quote based and design on your custom needs. Once we receive payment for the design work, we can begin the design process. We can also provide detailed instructions on how to install your lettering.
New! Custom Die Cut, Vinyl Stickers from The Crew at "Doe Eyed Design" By Zoltron Black Feb 24th Die Cut Stickers Comments
Shipped Free via USPS Priority mail in 7-10 days or less – turnaround on some orders can be as little as 1 day! One on One Service – We work with you (start with our Free Quote form below to get started!) to make sure your custom sticker project is perfect.
  We care about every sticker project like it's our own.  Our vast experience with our state of the art printing and cutting equipment helps us make decisions and recommendations that matter.
Die-Cut Stickers are computer-cut out of a pre-colored roll of vinyl with no printing.   Application is completed using clear application tape which we apply to each sticker before shipment.  The applied die-cut sticker has a painted on appearance, is one color and has absolutely no vinyl background when applied.   To get started on your custom Die-Cut sticker order, simply fill out our Free Quote form and upload your high-resolution artwork to receive a quote the same business day.
Whether you're looking to hand out, sell or even use our die cuts as a fundraising tool, our die cuts can be used in a wide variety of ways.  We've created die cuts for wall sticker applications, school team stickers, website stickers, church fundraising stickers and the list goes on and on.  Don't feel limited by what you see on our site, if you have a smooth, clean surface, chances are our die cut stickers will work perfect for you.
Minimum Order of 50 stickers for stickers that are 1″ x 1″ to 6″ x 6″ in size.  Lower minimums are possible for sticker sizes over 6″ x 6″.  Our maximum sticker size is 28″ wide by any length.  Minimum sticker sizes are only a general guideline, most artwork will be too complex to be cut at a size this small.  For heavier detail designs, check out our Clear Stickers.
Interviews Tyler Stout You Are Beautiful Prolly is not Probably Skinner David Lanham Gig Art Posters Supersonic Electronic All Hail the Black Market Hydro74 Ty! Billi Kid Shawnimals Cryptik Mishka NYC ABCNT Travis Millard Dronex Jose Pulido Marq Spusta 1000 Styles Chump Magic Zombie Yeti Citizen Panic Jimbo Philips
Some artwork won't be fit for die cut stickers, this includes artwork that is too detailed, too low resolution or multiple colors.  Avoid designing with lettering smaller than 0.25″ in height.  Maintain basic, clean edged design and text details and eliminate small, detailed parts where possible such as extremely small dots or very thin lines.  Fonts with jagged or rough looking elements will not be acceptable for this process.
Standard Production Time: 7-10 Days Rush Production Time: 2-3 Days Need your stickers faster?  Contact Us.  We may be able to help!
Die-cut stickers, also known as Computer-cut stickers in the industry are made through a vinyl cutting process. The computer reads the lines (vector art) made on the computer, and then physically cuts into the vinyl with a very small blade.
Commonly called transfer stickers, pro cut stickers, laser cut stickers or die cut decals.
Sticker samples are available upon request! Use Coupon Code FreeSamples when requesting your Free Quote
Design artwork in one color, as this is a one color process.   Vector Art designed in Corel Draw or Adobe Illustrator is highly recommended (.EPS, .AI, .PDF) and may be required based on your production needs.
Categories Art & Design Artist Stickers Clear Vinyl Stickers Custom Stickers Customers Stickers Die Cut Stickers Free Stickers Interviews Kiss Cut Stickers Laptop Stickers Political Stickers Random Awesomeness Random Stickers Social Sticker Campaigns Sticker Deals Sticker Friends & Fans Sticker Packs Sticker Tutorials Street Art Stickers
0″ > Order by: Most recent Top score Most helpful Worst score
Our pals at Doe Eyed Design Just released an Awesome Sticker Pack! (Details Below.)
All die cut stickers have application tape applied to them to ensure you can transfer the sticker from the sticker sheet to the surface.   We use clear application tape as a standard unless paper application tape is requested.  Paper application tape is sometimes more forgiving for larger stickers, wet applications and harder to stick surfaces.  We may recommend paper application tape depending on your application.
Vehicle Lettering Store Front Lettering Business Stickers for Promotional Items Sandblast Glass Any personal or one time use    
Sticker Cutting Machine Vinyl Sticker Vector Art Software                
Popular Posts 32 Amazing Pop Culture Hero Portraits… Sticker Tutorial: How to Make Custom Laptop Stickers 5 Tips On How To Print The Best Quality Full Color Stickers Tutorial: Drawing, Designing and Printing Die Cut Stickers 10 Visual Artists You Should Be Following on Instagram
The Stickerpacks include 8 Custom Vinyl Stickers that were printed by those silkscreen sticker aficionados over at Sticker Robot. Each Sticker Pack contains One Bad Apple, A Die cut Banana, One Bad Idea, Some Kisscut Stickers, Some Diecut Stickers and a hell of a lot of Unmitigated Awesomeness.
Die Cut stickers are limited to the colors that are manufactured by our suppliers, so not every color will be available.  If you have a specific color that you would like to use, you will need a Pantone color (PMS color) of your specific color so we can see if your color is available.   A Pantone color is required so we can do an actual comparison from our Pantone book to the vinyl swatch book.
Our Die Cut Stickers are one of the most popular options for customers looking to create custom window stickers.  With their easy peel, rub down and peel away application process, many customers use our die cuts as advertising tools.  Many customers include a sticker in every box their company ships and becomes a tool that continually advertises your brand on a customers laptop, car window, or car bumper for 3+ years.
Each sticker is hand peeled. We apply application tape over the top of the sticker. Each sticker is then trimmed by hand on a paper cutter to complete the process. The application tape allows the stickers to be peeled from their paper backing and applied to the surface.
The paper and the application tape is then thrown away, revealing the vinyl applied to the surface. Each sticker is ONE COLOR with this process! Why choose our product ? Excellent Quality (We use only 5-7 year outdoor Oracal vinyl and Kiwalite Vinyl (Reflective) ) Clear application tape is applied to each sticker, ready for application.
We have the the best pricing on computer-cut stickers. NO SETUP CHARGES!! We can custom create almost any design into a computer-cut sticker. Use almost any custom font for your stickers design. We use your artwork and send you proofs before starting your order.
Applying the graphics yourself saves you time and money! Specification File Types Accepted: Vector art (.EPS, .AI, .CDR) Largest sticker: 23″ Wide x 50+ feet long. We also produce windshield banners for your needs! Smallest Sticker : .
5″ tall for most fonts (varies by design). Minimum Quantities : 50 window stickers up to 24″ wide, minimum quantities drop as sticker size increases. How your stickers arrive : Individually trimmed, clear application tape applied to each sticker, packaged, ready to be handed out or applied in a harsh environment for 5-7 years outdoors.
How to Order ?

Related Images of New Custom Die Cut Vinyl Stickers Do Dyed