Most Amazing Sticker Ever Printed
round stickers Most Amazing Sticker Ever Printed
round stickers Most Amazing Sticker Ever Printed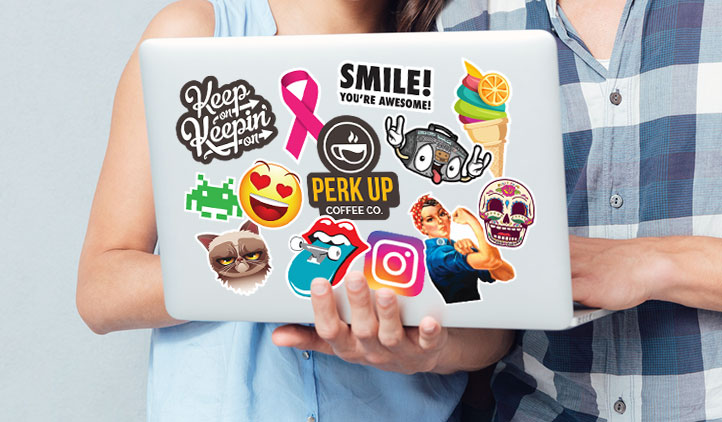 Oh and when you're done buying the sticker pack, make sure to take a look at  the John Pound GPK checklist.
On a regular basis we'll ask a new sticker artist a series of 10 questions. To keep things simple and to engage in a deeply philosophical, long term case study of the scientifically complicated "Sticker Artist's mind," we've decided to leave the questions the same every week.
Popular Posts 32 Amazing Pop Culture Hero Portraits… Sticker Tutorial: How to Make Custom Laptop Stickers 5 Tips On How To Print The Best Quality Full Color Stickers Tutorial: Drawing, Designing and Printing Die Cut Stickers 10 Visual Artists You Should Be Following on Instagram
On our Sticker Robot Facebook Page, We asked our friends & followers to add their own Captions a series of photos that we posted… And some of them are pretty damn good!
Interviews Tyler Stout You Are Beautiful Prolly is not Probably Skinner David Lanham Gig Art Posters Supersonic Electronic All Hail the Black Market Hydro74 Ty! Billi Kid Shawnimals Cryptik Mishka NYC ABCNT Travis Millard Dronex Jose Pulido Marq Spusta 1000 Styles Chump Magic Zombie Yeti Citizen Panic Jimbo Philips
Pretty Sweet, Right ? We thought so too… Check out more Eyeskull Madness here.
"Eye Skull" Sticker Campaign Concept Sticker Sketches from Adam White By Zoltron Black Jan 21st Sticker Campaigns Comments
Awesome Hand Drawn Sticker Escalator Animation  by Mister Kama
The Most Amazing Sticker Ever Printed..? By Zoltron Black Jan 11th Random Awesomeness Comments
We Asked Sticker Fans for Captions to Photos… By Zoltron Black Jan 12th Social Comments
New Online Tattoo Culture Magazine coming Soon! By Zoltron Black Jan 16th Art & Design Comments
Someone sent us an image of "The Most Amazing Sticker ever Printed.."  Whether it's actually a sticker or not is up for debate, but it is pretty damn amazing.
Categories Art & Design Artist Stickers Clear Vinyl Stickers Custom Stickers Customers Stickers Die Cut Stickers Free Stickers Interviews Kiss Cut Stickers Laptop Stickers Political Stickers Random Awesomeness Random Stickers Social Sticker Campaigns Sticker Deals Sticker Friends & Fans Sticker Packs Sticker Tutorials Street Art Stickers
Please leave a comment below and let us know which numbers you like the best!
Jennifer Lewis is a wonderful illustrator and has been a great customer over the years.
John Pound, The Legendary Artist behind the highly collectable Garbage Pail Kids®, Wacky Packages© and MAD Magazine, teamed up with Adam White (AKA Craze One) to release these Super Sweet Custom Made Sticker Packs (With 10+ Clear Vinyl Stickers Printed by the self-proclaimed Legends at Sticker Robot… )
Sticker Artist, Jennifer Lewis' KickStarter Campaign, with Stickers Galore! By Zoltron Black Jan 19th Sticker Campaigns Comments
She is currently Campaigning via Kickstarter to raise funds to recreate her acrylic painting entitled, "Robot" as limited edition, signed and numbered prints… And she's rewarding pledgers with custom stickers that we are printing!
Download our free guide:25 Top Freelance Job Sites for Real Clients with Big Budgets
Custom Sticker Packs Garbage Pail Kids® Artist, John Pound & Craze One By Zoltron Black Jan 20th Sticker Packs Comments
John Watson is an adamant cyclist, a prolific photographer and a successful blogger. Oh, and John Watson loves Stickers… 
10 Questions with John Watson, The Bike-Centric Blogger Behind "Prolly is Not Probably" By Zoltron Black Jan 16th Interviews Comments
Help us Decide Which Stickers will be in our New Custom Sticker Packs! By Zoltron Black Jan 15th Sticker Packs Comments
This is a Photograph of a Sticker on a Leaf By Zoltron Black Jan 22nd Artist Stickers Comments
Anyways, we love them all, but they all can't make it into the pack. Can you help us narrow it down to the best 5 or 6..?
Our adhesive loving friend, and vinyl adoring comrade, the Talented Mr. Hydro74 has drawn up some RAD new pop culture sticker characters for our upcoming Stickerobot vs Hydro74 Custom Sticker Packs. You may remember our Hydro74 Interview from a couple months back…
A Video: Stickerobot Silk Screen Sticker Printing & Die Cut Stickers
Our good friends at Tattoo Artist Magazine, with whom we have printed over 100,000 super high quality, custom silkscreen stickers, (which are inserted into every issue) are getting ready to launch a brand new digital magazine, called Tattoo Culture!
Escalator Animation with Stickers… By Zoltron Black Jan 19th Street Art Stickers Comments