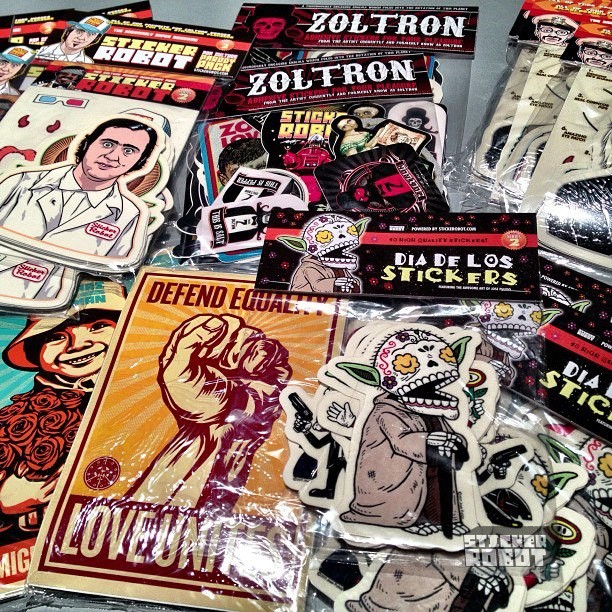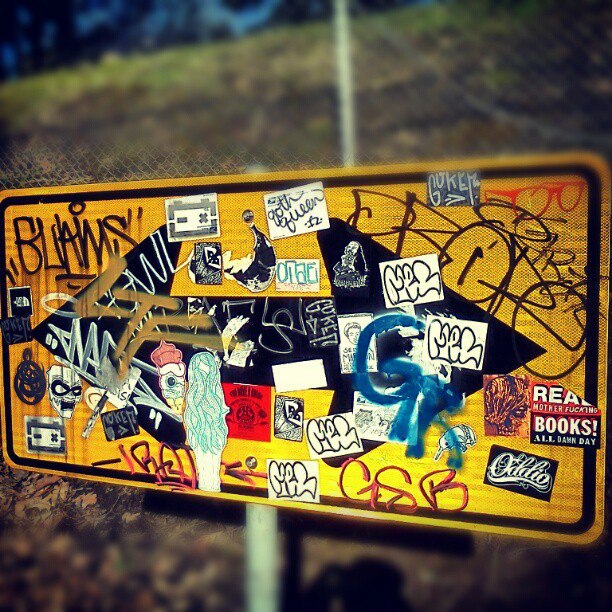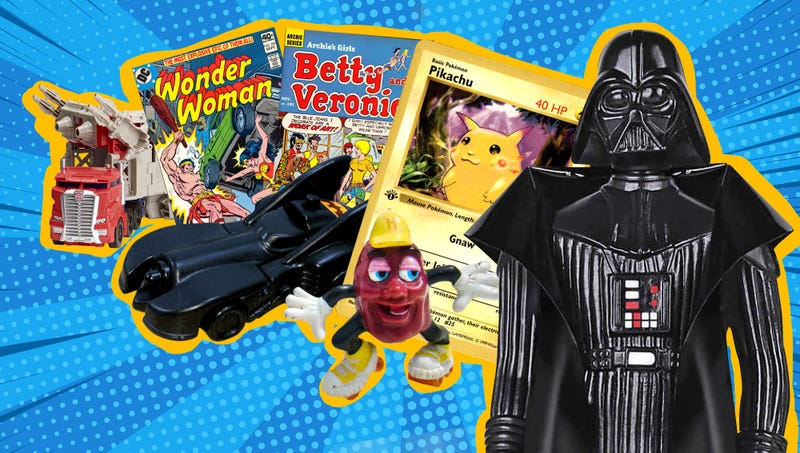 While we're on the topic of Hobbit illustrations.. Can't go wrong with these Precious Russian Hobitsses…
A Russian 'Lord of the Rings' Illustrated Book By Zoltron Black Jan 27th Random Awesomeness Comments
The Jon Stewart HOPE Parody Sticker Giveaway! By Zoltron Black Jan 23rd Free Stickers, Sticker Campaigns Comments
We've a loveable space that needs your face, Three's company too.
A Video: Stickerobot Silk Screen Sticker Printing & Die Cut Stickers
Custom Made Sticker Packs By Zoltron Black Jan 28th Sticker Packs Comments
We are finally starting to dig our proverbial heels in and generating some fresh sticker related content over at our Google+ space.  We also recently set up a Sticker Community. So if you wanna get all intimate with us and discuss the deep adhesive meaning of all things vinyl, there's no better time and there's no better place..
On a regular basis we'll ask a new sticker artist a series of 10 questions. To keep things simple and to engage in a deeply philosophical, long term case study of the scientifically complicated "Sticker Artist's mind," we've decided to leave the questions the same every week.
If you leave a comment below, such an undeniably awesome sticker could be yours! (details following the jump…)
Popular Posts 32 Amazing Pop Culture Hero Portraits… Sticker Tutorial: How to Make Custom Laptop Stickers 5 Tips On How To Print The Best Quality Full Color Stickers Tutorial: Drawing, Designing and Printing Die Cut Stickers 10 Visual Artists You Should Be Following on Instagram
Custom Made Pop Culture Sticker Packs are available at the Sticker Robot Store. $10 Each.
Ten years ago, a simple Sticker campaign called "You Are Beautiful" quietly began with 100 stickers. Since then, over a half million stickers have traveled around our globe…. 
Categories Art & Design Artist Stickers Clear Vinyl Stickers Custom Stickers Customers Stickers Die Cut Stickers Free Stickers Interviews Kiss Cut Stickers Laptop Stickers Political Stickers Random Awesomeness Random Stickers Social Sticker Campaigns Sticker Deals Sticker Friends & Fans Sticker Packs Sticker Tutorials Street Art Stickers
Interviews Tyler Stout You Are Beautiful Prolly is not Probably Skinner David Lanham Gig Art Posters Supersonic Electronic All Hail the Black Market Hydro74 Ty! Billi Kid Shawnimals Cryptik Mishka NYC ABCNT Travis Millard Dronex Jose Pulido Marq Spusta 1000 Styles Chump Magic Zombie Yeti Citizen Panic Jimbo Philips
Miniature Die Cut Round Vinyl Stickers By Zoltron Black Jan 30th Customers Stickers Comments
10 Questions with the Creator of the "You Are Beautiful" Sticker Campaign By Zoltron Black Jan 29th Interviews Comments
Over the course of a couple months, using an iPhone app called "Everyday," the enigmatic artist known only as Zoltron, who happens to be writing this very post about himself, peeled and adhered a couple hundred custom printed outdoor stickers and made a simple time lapse video…
Some Fancy Custom Printed Mini Die Cut Round Vinyl Stickers for our special pals at MishkaNYC. Note: the one on the right is the sticker…
Jon Stewart is an American political satirist, a television host, an actor, and stand-up comedian. Jon Stewart is also an AWESOME sticker.
Let's forget about Stickers for a minute and cherish the warm mental embrace of a Jolly Shireling named Bilbo… For Kids.
Is This The Ultimate 70's Pop Culture Sticker Pack ? By Zoltron Black Jan 30th Random Stickers Comments
This is Sticker Robot's Google+ Page. There are Many Others Like It, but This One is Ours…. By Zoltron Black Feb 01st Social Comments
Some Sticker Covered Street Signs… By Zoltron Black Jan 26th Street Art Stickers Comments
A Time Lapse Video of 250+ Outdoor Stickers By Zoltron Black Jan 31st Artist Stickers Comments
A Little Tolkein Book to Brighten your Day… By Zoltron Black Jan 26th Random Awesomeness Comments
Related Images of Is This The Ultimate 70S Pop Culture Sticker Pack