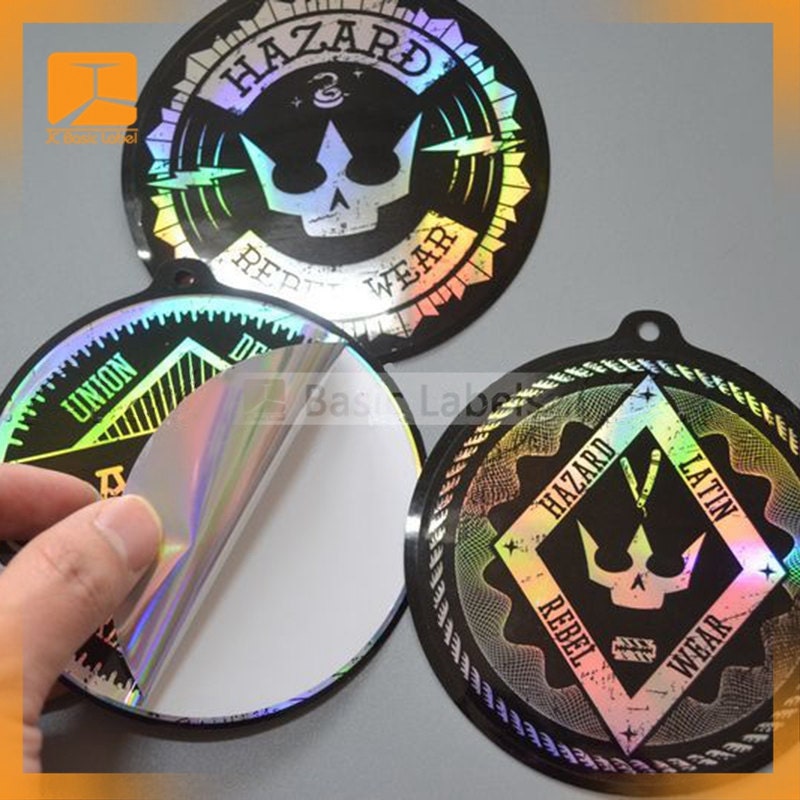 Hang Tag Stickers
Hang Tag Stickers
Hang Tag Stickers
. . . . . . . . . . . . . . . . . . .
Free Shipping on all Orders* FREESHIP *Orders shipped to Contiguous USA. View Offer Details
Our hang tag stickers have custom printing on the thick paper backing, so you can add a sizing chart, company logo, pricing, or anything that a regular clothing hang tag would have. They can be kiss cut and die cut to any size and shape, and we even drill out the hanging hole, so you don't have to pop the tag off in order to peel the sticker away… We're too good to you.
Home My Account Cart Order Now Custom Stickers Die Cut Stickers Circle Stickers Oval Stickers Square Stickers Rectangle Stickers How to Order Custom Stickers Products Custom Vinyl Stickers Die Cut Stickers Sticker Sheets Circle Stickers Oval Stickers Square Stickers Rectangle Stickers Bumper Stickers Sticker Hang Tags Sticker Packs Cut Vinyl Decals Templates Samples Custom Sticker Samples Die Cut Stickers Samples Sticker Sheets Samples Circle Stickers Samples Oval Stickers Samples Square Stickers Samples Rectangle Stickers Samples Sticker Hang Tags Samples Sticker Packs Samples Bumper Stickers Samples Vinyl Decals Samples Request Samples Unique Projects Help Contact Us Sticker FAQ Vinyl Sticker Material Details Kiss Cut VS.
Die Cut Stickers Sticker Hang Tags Easy Peel Stickers Accepted File Formats Rich Black Ground Shipping Time Art Requirements
You may also purchase "Template Help" at checkout for more hands-on help placing your artwork on our templates.
Eye-popping full color graphics from cutting-edge printing tech
Hang tags are a great way of getting some residual notoriety from that sweet sweater you just sold, but having good looking artwork on the tag is only half of the battle, you need an easy way for your customer to share it.
We will add the hang tag portion to your design and send you a proof for approval before printing.
You can rest assured that your stickers from StandOut Stickers are the highest quality available. We constantly reinvest in our company to offer the best quality materials and printing technology for you!
Select a Template: Die Cut Sticker Template 1.5″ 2″ 2.25″ 2.5″ 3″ 3.5″ 4″ 4.5″ 5″ 5.5″ 6″ 2.75″x1.75″ 3″x2″ 4″x2″ 4″x3″ 5″x2″ 5″x3″ 5″x4″ 6″x2″ 6″x4″ 8.5″x2.75″ 10″x3″ 1.5″ 2″ 2.5″ 3″ 3.5″ 4″ 4.5″ 5″ 5.
5″ 6″ 1.5″ 2″ 2.5″ 3″ 3.5″ 4″ 4.5″ 5″ 5.5″ 6″ 2.75″x1.75″ 3″x2″ 4″x2″ 4″x3″ 5″x2″ 5″x3″ 5″x4″ 6″x2″ 6″x4″ 8.5″x2.75″ 10″x3″ 2.75″x1.75″ 3″x2″ 4″x2″ 4″x3″ 5″x2″ 5″x3″ 5″x4″ 6″x2″ 6″x4″ 8.5″x2.75″ 10″x3″ Buy Custom Stickers
FREE SHIPPING! CODE FREESHIP  (Cont. USA) Order Custom Stickers from $25! Production Time: 5 Business Days  (After proof approval)
Having cool artwork on the hang tag of the clothes you're selling is all well and good, but what happens to those tags once they're removed? Trash? Some shoebox in the back of a closet?
Suitable for indoor & outdoor use (Up to 5 years fade-free!)
Below you will find templates for our standard sized & shaped vinyl stickers. There is also a template for custom die cut vinyl stickers which can be resized if needed. Remember to prepare your file according to our Artwork Requirements. Also read our FAQ if you have any questions. If you still have quesitons, Contact Us with any questions regarding file preparation. There is a layer where you need to provide a 1pt stroke outline for where you'd like your kiss cuts placed. Only include the kiss cuts you have paid for. Discrepancies will require us to contact you and slow your production.
FREE digital proof with every order. We won't print until you're happy. FREE shipping on all orders to the contiguous USA with code FREESHIP. Two finish options! Original Gloss or Matte Finish to give your stickers a silky smooth look! We constantly reinvest in ourselves to always have cutting edge equipment! We setup, print, cut, pack and ship your custom sticker hang tags in our 16,000 sq.
ft. facility located in Medina, Ohio. Fast Turnaround to meet your tight deadlines! (3-5 business days) Live In-House Customer Service Chat right on the site! High quality sample photos to see our quality before you buy! Trusted by global brands including Disney, Twitter, Google, and many more.
High quality templates make sure your order comes out perfect every time!
Sticker Hang Tags Sample Photos Home Samples Custom Vinyl Sticker Samples Sticker Hang Tags Sample Photos
It doesn't matter if you make clothes or simply sell them, our hang tag stickers are the perfect way to get your name out there. Order yours today and take advantage of our free US shipping.
Samples Pages Die Cut Stickers Sticker Sheets Circle Stickers Oval Stickers Square Stickers Rectangle Stickers Sticker Packs Hang Tags Bumper Stickers Easy Peel Upgrade Get Samples Cut Vinyl Decals Samples
Our sticker clothing hang tags do just that. It's a hang tag. With a sticker on it.
Sticker Hang Tags Home Custom Stickers & Vinyl Decals Vinyl Custom Stickers Sticker Hang Tags
250 500 1,000 2,000 3,000 4,000 5,000 6,000 7,000 8,000 9,000 10,000 11,000 12,000 13,000 14,000 15,000 16,000 17,000 18,000 19,000 20,000
Dual purpose hang tags! Customize your products with our sticker hang tags! We can take any custom sticker design and turn it into a functional, high-quality vinyl sticker hang tag for a minimal upgrade cost.
By adding a small bit of extra material to your sticker, along with a 1/8″ drill hole and a kiss cut, your sticker becomes a custom hang tag. The extra material is separated from your original design with a kiss cut, so that when removed from the backing, your design is unchanged.
The added value to you is that a custom sticker is built in to your existing hang tag needs, letting your brand and advertisement live on where normal hang tags are discarded immediately. Give added value to your products with sticker hang tags!
Related Images of Hang Tag Stickers