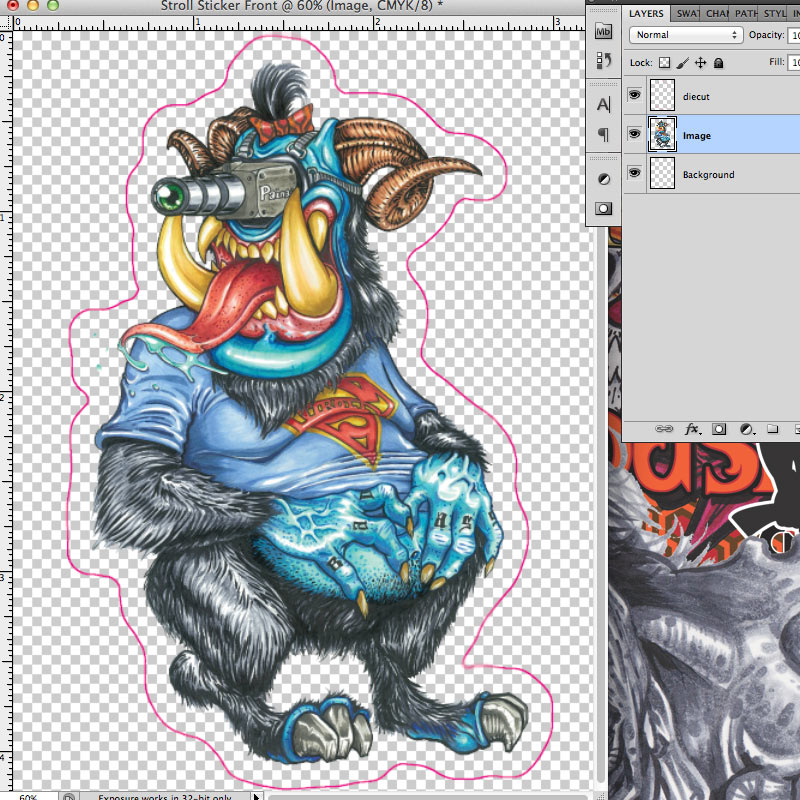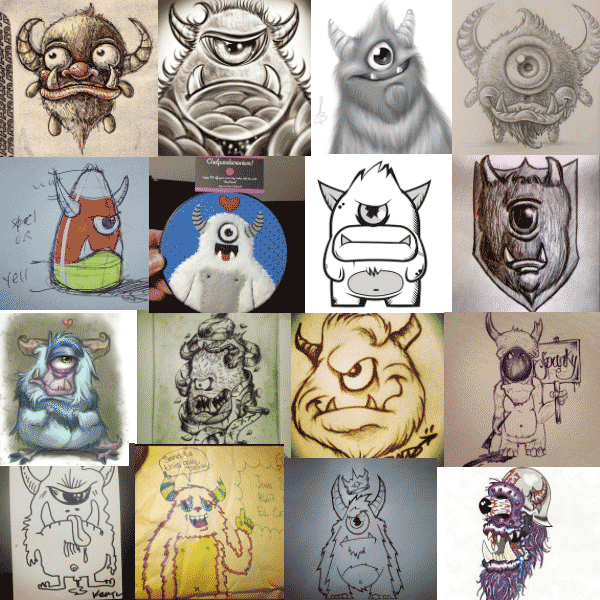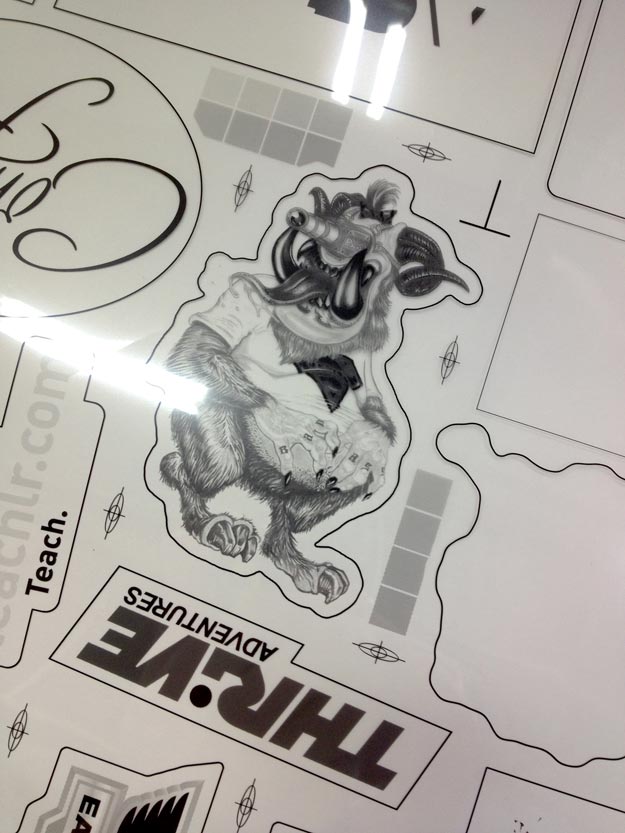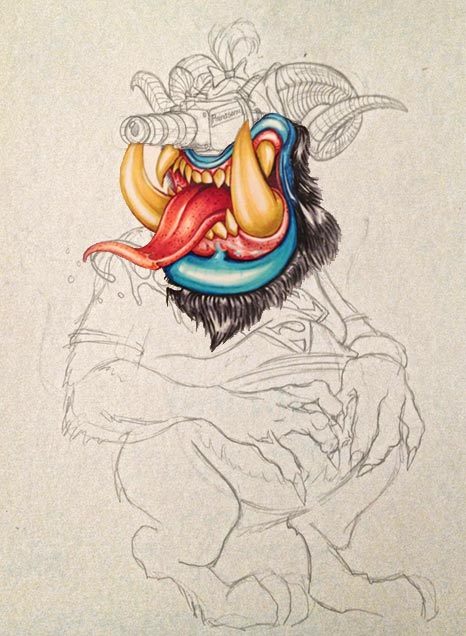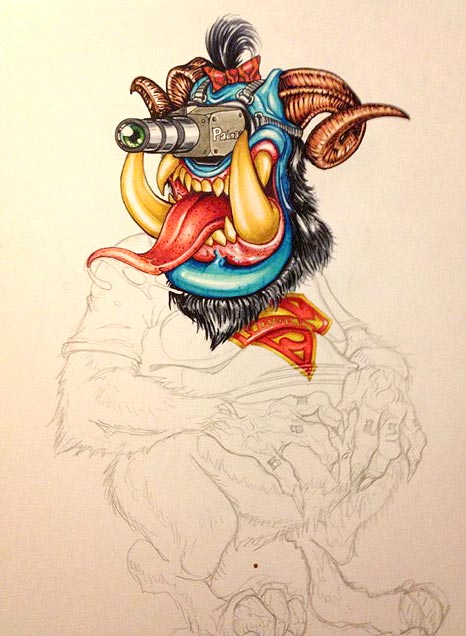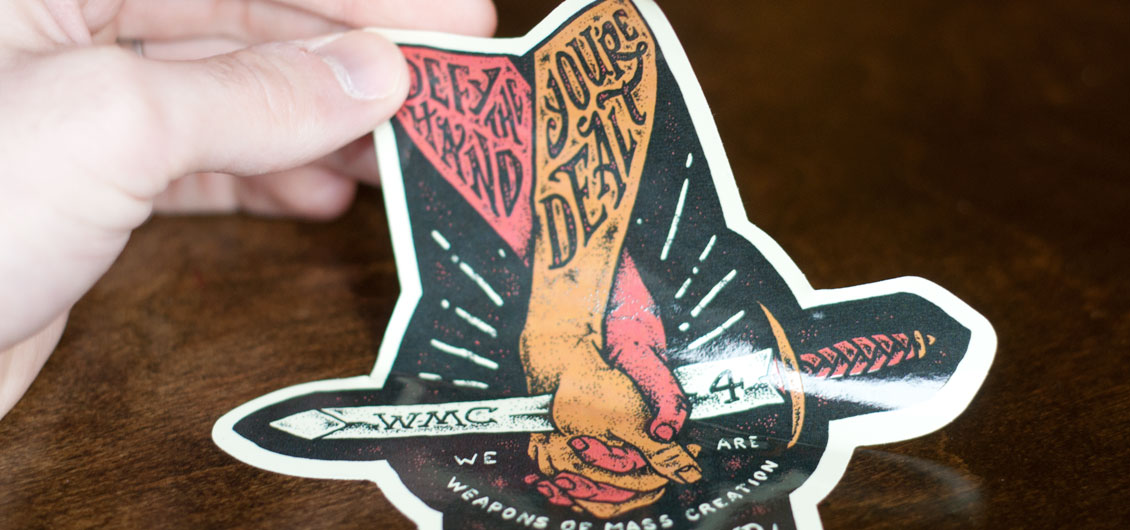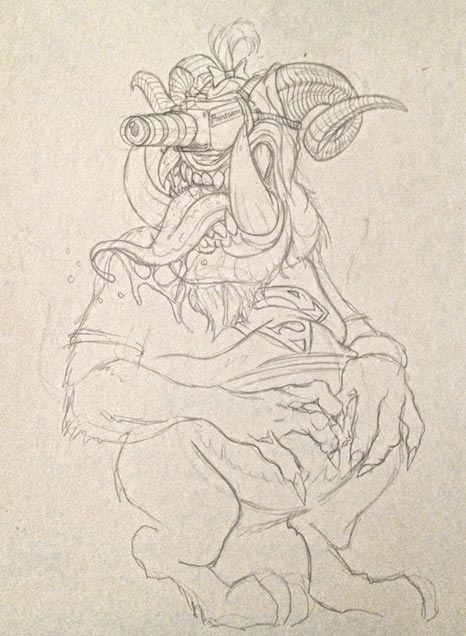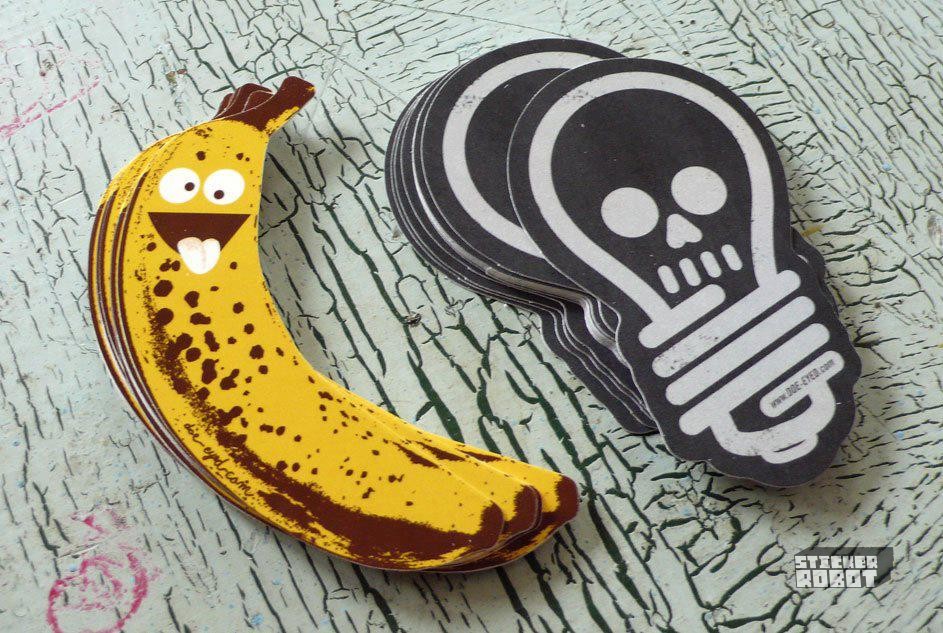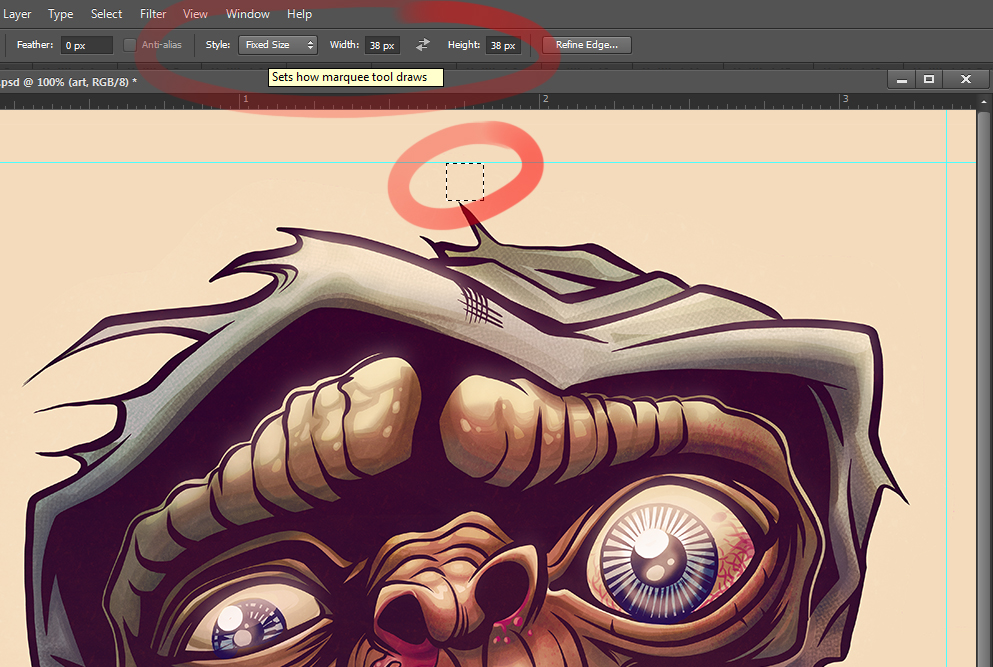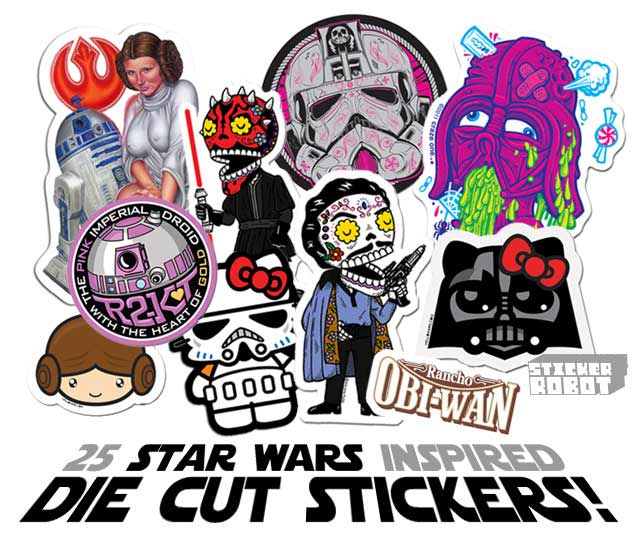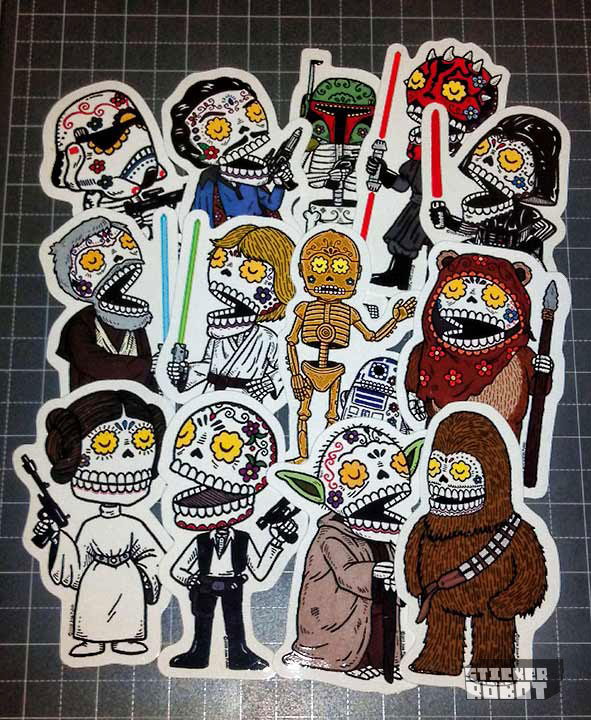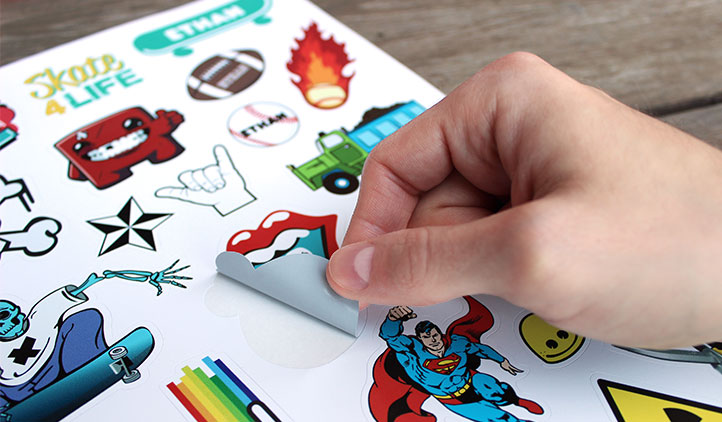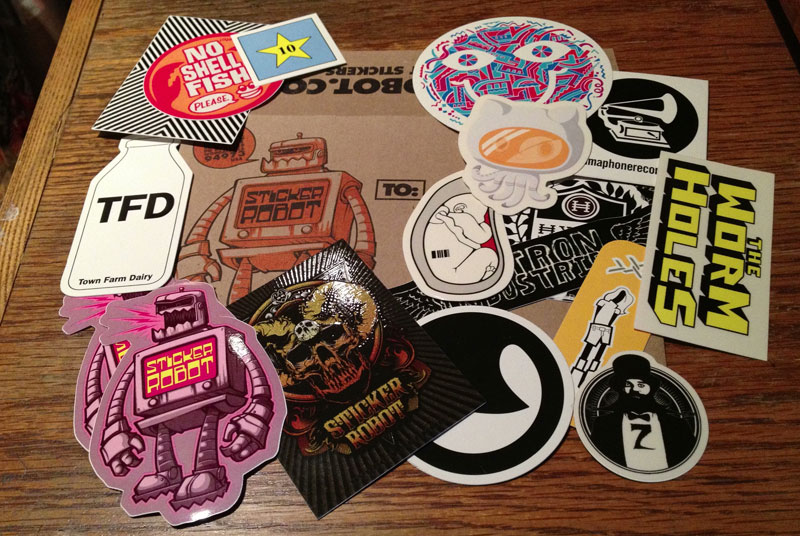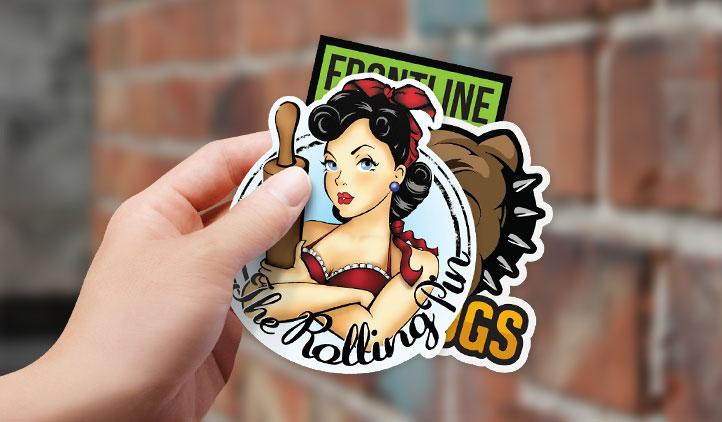 Tip: When you're finished with your sticker design, you can send it to a printer who can print and die-cut your sticker—so you can share it as a decal, branding, or decoration.
The rest of the lettering was easier because I had a font to base it off of. For the words Cleveland, I set my reference type up with ITC Caslon and warped the type and got it into place. Then I drew over top of it my own custom version of it. For the dates, I loosely based my letters on the font, I drew it in rather quickly. Check it out:
Now that I had my outlines and shading complete, it's time to fill it with color! I knew I wanted to go with my tried and true WMC Fest color palette. With my outlines and shading layers on top, I made a new layer underneath everything for each element. I started with the left arm first and colored it with the WMC pink color. Then I made a new layer and started coloring the right arm an orange color. By having the outlines on a layer above your colors, all you have to do is get close and color between the lines. It doesn't matter what kind of brush you use, I'm just painting in solid colors. To make sure I'm using the same consistent colors throughout the design, I use "color overlay" layer style on each layer.
Categories Art & Design Artist Stickers Clear Vinyl Stickers Custom Stickers Customers Stickers Die Cut Stickers Free Stickers Interviews Kiss Cut Stickers Laptop Stickers Political Stickers Random Awesomeness Random Stickers Social Sticker Campaigns Sticker Deals Sticker Friends & Fans Sticker Packs Sticker Tutorials Street Art Stickers
Tip: If the default Fill and Stroke colors are different, click once on the Fill box and click on the white icon with the red slash in the Color panel to set it to none. Then click once on the Stroke box and click on the black icon in the Color panel.
Since this is going to be a clear sticker we need to ditch the white background, it's full of stray marks, drips, blood, sweat and tears that I don't want on my sticker.
Take the "magic wand" tool and select the white background. Now notice the closed gaps that were not selected below. Make sure and add them to your selection. Most of them are obvious, but pay attention and get every last gap selected, some are tiny and barely noticeable but they will show up in the final product if you forget one. I've marked them in the pic below to demonstrate my point.
Getting into Night Photography 5 & 3/4 Questions: Marina Okhromenko Designs with Character: Tad Carpenter and Carpenter Collective
Once you have all your gaps and background selected go to the "Select Menu" and click "Inverse" and Delete. Then drag (Or Copy and Paste) the image into the new file we just created and you have a nice clean, transparent background.
4. With the object selected, go to the Pathfinder panel (Window > Pathfinder); then choose Unite (the first icon in the Shape Modes section).
I'm also a sticker artist and the one man wrecking crew behind Grindhouse Graphix in Phoenix, Arizona. The good people at Sticker Robot are handing me the mic today, so I'm going to share my steps of creating a hand drawn sticker and then getting it print ready for Sticker Robot to make into custom vinyl die cut stickers…
Now go to "Edit" and click "Stroke." The stroke should be 2-3 pixels for a 300dpi file. Magenta is a good color to use since it usually stands out from your artwork. This will be the die cut line and edge of the sticker. Label the layer "Diecut." It should look something like this.
The basic colors are coming together… we're just missing the final color, black.
Way back when I started WMC Fest I used the phrase "defy the hand you're dealt" quite a bit. I wanted to bring that back this year. A couple years ago Brandon Rike created an image for WMC that featured a hand stuck with two arrows. It's a clever way of illustrating the idea behind the phrase. I wanted to expand upon that and combine it with images of friendship, togetherness, and community. Those are frequent ideas people have when they think about WMC. I started sketching and I came up with a pair of holding hands with a sword through them. You know, like we're fighting this struggle together!
Tutorial: Drawing, Designing and Printing Die Cut Stickers By Zoltron Black Apr 17th Clear Vinyl Stickers Comments
Once I have things how I want them I erase the stray pencil marks leaving just the basic outlines and start with the focal point of the image, his head.
Tutorial: How to Design and Print Custom Silk Screen Die-Cut Stickers
This is an image of the film that is used to create the custom shape die lines. The cyan and magenta ink have been printed. Next up is yellow and black… All colors have been printed – cyan, magenta, yellow and black.
Cyan, Magenta, Yellow and Black. Silkscreen Ink.
The design was sent off to Sticker Robot and here's a few photos they took of the sticker printing process, from film to packaging:
And that's it! For more projects and information, visit our Illustrator Tutorials page.
this is what a couple thousand custom die cut WMC stickers look like…
Open the image in Photoshop and create a new file. I want my final sticker to be 4″ high by 3″ wide at its furthest points. So I make the document 4.25″ high by 3.25″ wide. You need 1/8″ of space from your artwork to create the die cut and another 1/8″ of bleed past the die cut that will be trimmed off later. The extra .25″ accounts for this.
A squeegee pushes ink through the screen onto the vinyl substrate, one color at a time, one sheet at a time.
The next section I tackle the t-shirt and then on to the hands, belly, arms and legs. I find that it's best to approach marker projects the same as eating a whale, one bite at a time. Compartmentalize it in its space by color. The final image was done on 9″ x 12″ Bristol, and took me about twenty hours to complete start to finish.
Once the drawing was complete, I printed it out and used a good old fashioned light box. I placed my outlined drawing down first, then placed a blank sheet of paper directly on top. The light box allowed me to see through the paper so I can have precise detail when stipple shading. I used a set of fine-detail Micron pens. There is no shortcut to stipple shading, believe me I've tried!  I actually tried using my Wacom tablet to do this, but I didn't get as natural and consistent results. So I went analog for this! To be honest, stipple shading is much easier using Micron pens and doing it on real paper than trying to do it digitally. My intention was to scan my shading into Photoshop onto a different layer. Then I could do whatever I wanted with it!
More… …Less Search Follow Let's Be Friends Get App Graphic Design Illustration Motion Graphics Photography More… Art Direction Audio/Video Branding Creative Residency Screen Design
First a word about the character itself. My Sticker design is based on the SpankyStokes.com Stroll Mascot. Spanky Stokes is a Vinyl Toy Culture Website. A few months ago on Instagram a bunch of artists started drawing the Stroll character. I don't know the reasoning but it went viral on IG fast & dozens of artists posted their own versions of the character.
First you want to scan the image into Photoshop. The Stroll was slightly larger than my home scanner so I took it to a office supply store and had them scan it to a thumb drive.
Interviews Tyler Stout You Are Beautiful Prolly is not Probably Skinner David Lanham Gig Art Posters Supersonic Electronic All Hail the Black Market Hydro74 Ty! Billi Kid Shawnimals Cryptik Mishka NYC ABCNT Travis Millard Dronex Jose Pulido Marq Spusta 1000 Styles Chump Magic Zombie Yeti Citizen Panic Jimbo Philips
Hello, my name is Jake Gillispie, and I am a sticker addict.
MAKE A DIE-CUT STICKER WITH ADOBE ILLUSTRATOR Learn how to create custom-shaped stickers to showcase your artwork.
You're ready to order your stickers! Go to stickerobot.com place your order, upload your artwork and then comes the hardest part of the process…. Waiting for that box full of magic to show up at your door. Now go forth and stick'em up.
The trickiest part in setting this up for print was creating the die-cut layer. This was just a single color outline that on a separate layer that tells the printer where to cut the sticker out from the background. Since we aren't going for traditional square-shaped stickers here, you need to specify the shape of your sticker!
And here is our finished design when we turn back on the shading and outline layers. Note: you might see some subtle distressing on the type. What I did for that was duplicating some of my stipple shading layers and placing them strategically on top of the type. Since the shading layers are the same color as the background, I was able to achieve a slightly distressed look.
6. Move the outline to a new layer: In the Layers panel (Window > Layers), create a new layer, double-click on the layer name, and call it Cut Line. With the artwork still selected, choose Object > Arrange > Send to Current Layer.
We want to hear what you have to say. Do you agree? Do you have a better way to approach the topic? Let the community know by joining the discussion.
When I do a marker piece I like to do the most difficult parts up front, so in the event I screw it up early, it's not a big deal to start over from scratch. The tusks and tongue are the most difficult part, also the most forward objects in the 3D space and the lightest shades. So I color those first, one small section at a time, starting with the lightest shade and blending darker shades outward from the outlined highlights. I continue on from the teeth and tongue to the lips, the beard, etc., until the entire head is complete.
Art Direction Audio/Video Branding Creative Residency Screen Design
The guys at Sticker Robot snapped some images of the sticker printing process. Here's some behind the scenes photos of Die Cut Sticker Printing.
Save the file as a (layered) TIF and the front sticker side is done. Title it, "Sticker-Front.tif"
Home > Go Media Zine > Tutorials > Photoshop > Tutorial: How to Design and Print Custom Silk Screen Die-Cut Stickers
A bright light is used to expose the film through the emulsion to the silkscreen itself. Each color will have it's own screen.
The cyan and magenta ink have been laid down. Next will be yellow, then black and finally 3 coats of clear UV protective ink.
Sticker Robot can print on the paper back of your sticker. They call it Sticker Back Printing. It's a good place to add a logo, your URL, a QR code, etc.
Once my outlines are created, it's time to start drawing the type. Now it took me many tries to get the letters correct for "Defy the Hand You're Dealt." My sketch itself wasn't detailed enough so I had to improvise a lot. I knew I wanted "defy the hand" on the left arm and "you're dealt" on the right arm. It was just a matter of making the letters fit! It was a lot of trial and error. Some tips for your own lettering would be to block in the letters first. Try a rough draft and get the letters in there how you want. Then you can turn that layer's opacity down and draw it again over top while being more creative with the letter forms. Since I don't have a very steady hand (often a little jittery from coffee and anxiety) my letter forms are not perfect. They're a little wobbly, which is ok considering my entire design will be slightly imperfect.
Here is what our design looks like without any outlines on top.
Since this artwork is going to be used in lots of ways, I created my Photoshop document at 18″ x 24″ at 300 DPI.  Why didn't I use Illustrator you ask?  Just personal preference mainly. This design could have been done in either program to be honest. Since we are setting up the files for CMYK sticker printing, I chose the CMYK color mode. Once I got my new document set up, I copied and pasted my sketch in the document and sized it accordingly.
Related: Check out this other article I wrote about how to design custom Kiss Cut Stickers for your Band.
2. Create space around your design: Choose the Selection Tool. Click and drag to select the artwork. Choose Object > Path > Offset Path.
Another cool thing with Sticker Robot is they are one of the few sticker printers that allow you to print a grayscale design on the back of your sticker! To set this up with my custom shape sticker, I mirrored my sticker shape horizontally and designed the sticker back. I used a collage background I designed for the festival last year as my background and added our website URL. The only catch is the design had to be black and white. Check it out:
This post is a revealing walk-through behind the design, illustration, and sticker printing process. I'm proud to show off the new artwork I created for the upcoming Weapons of Mass Creation Fest 4 event.  The artwork below is going to be used for stickers, t-shirts, posters, etc. In this post I'm going to show you how I created it and how I set it up to become a die-cut sticker. I got these custom die cut stickers printed at Sticker Robot and they did a great job! Let's do this. Strap yourselves in, this is going to be a fun ride.
5. Reverse the Fill and Stroke color: If the default Fill color (in the Toolbar) is set to black and the default Stroke color is set to none (indicated by a red slash), click on the double arrow between the boxes to reverse the settings.
Since I am a Spanky Stokes fan I wanted to try and put the "Grindhouse" stamp on it, so I jumped in headfirst. If you follow me on Instagram (@jakegillispie) you'll know I am a big fan of documenting the process.
Make sure to follow Jake on instagram or facebook – and definitely leave a comment below.. (And Thanks Spanky!)
Also, since I made my background dark, notice how I changed the colors of "we are weapons of mass creation" and "until the end" to something brighter. Also, take a look at how I colored the little flag in the middle and the rays shooting out from the center. I just selected those layers and changed the "color overlay" setting to the color I wanted. No additional coloring needed.
One trick to note: I did a separate scan for any stippling that would be "highlights" or "distressing" on my image. For example I did the stipple shading on my text on its own piece of paper and scanned it separately. That way I could change its color easier. I did the same for all the abstract dots that fill the background. In the end those were going to be lighter than the background, but it is still nice to have it on its own layer.
I like to add a QR code (Quick Response), so people can scan the back of my sticker and come straight to my website. You can have a code automatically generated by using QR code generating sites like Kaywa or Qurify. Or you can Buy iQR from the app store (they offer vector support.)
Make sure you are in CMYK mode, put the resolution at least 300dpi. This sticker will be printed on clear vinyl so make the background transparent.
Silkscreen ink is notoriously thick and durable, typically 10-20 times thicker than digital ink. This is magenta:
Grindhouse Graphix C/O Stroll Sticker P.O. Box 67595 Phoenix, AZ 85082
If your sticker is a custom shape, like the sticker in this tutorial, simple flip your front sticker file and the magenta die line horizontally. Add your black and white graphics, making sure to pay attention to the 1/8″ bleed and safety guidelines and save the file. Title it, "Sticker-Backt.tif" – It's pretty simple.
The design is done! Now I just need to send it to print! But before that I had to make sure I was adhering to the specs that Sticker Robot calls for on their website. They actually screen print their stickers, but use a CMYK simulated process print. They literally screen print tiny dots of Cyan, Magenta, Yellow, and Black to get the exact colors in your design. So all I had to do was send them a high res CMYK .tif file and they did the rest. No complicated color separation work for me!
Ok, Now that we've inundated you with information on how to make a custom die cut sticker, now we'll tell you how to get a custom die cut sticker! Simply follow the 2 steps below and you will be peeling and slapping one of these adhesive beauties before you know it.
We need to show the printers where to cut the sticker. To do this, we will created a new layer with a cut line. The first step is to create a new layer above the image layer. With the new layer highlighted hold Command and click the image layer icon to precisely select the image. We need to expand the selection in order to create the die cut line 1/8″ inch beyond the artwork. From the "Select" menu, choose "Modify" then click "Expand." Since my resolution is 300dpi, I need to expand my selection by 38 pixels to equal 1/8″, (If you work in a higher resolution the pixel width will be greater than 38). It should look like this.
One thing to note was that there should be at least a 1/8″ safety area separation from your artwork to your die-cut line, and an additional 1/8″ bleed  area beyond your die-cut line. This will ensure your sticker has enough room to move around slightly on the press.
Before saving it, I would advise printing it out on paper in full size to check for mistakes and test it on a QR reader to make sure it works and isn't too small. I have found that if you go less than .75″ squared my phone has issues reading them.
If you liked this post, we think you'll like:WMC Fest 6 Poster Design Process: An Inside Look (Part II)Illustration Tutorial: "The Man Who Knew It All" Technical Process & Design PhilosophyTutorial: Block Print Design with Derrick CastleCollaboration! Two samurai (artists) are more powerful than one.
3. Modify the offset angle: Enter an Offset value, select Joins > Round, and select the Preview option. Click on OK.
You can use this techinque to create custom-shaped stickers that are a great way to showcase your artwork. Start from scratch, or download practice files—the 60-second video shows the process, and all the steps are outlined below. 
This is a tedious process, where each sticker sheet is literally cut one at a time – a truly custom sticker. See the video below that shows the process on creating die cut stickers.
My weapon of choice here are markers and a 2H pencil. I start with a rough loose sketch and get my proportions and pose how I want them, and go heaviest on the outline of the character. I also lightly outline my highlights in this stage, creating a blueprint. With markers you always go light to dark, so by outlining the highlights in pencil I know exactly where not to lay down any ink, keeping the paper white and shiny creating a reflection highlight once surrounded by color.
So there you have it, that was how I created the artwork for the 2013 Weapons of Mass Creation Fest and how the stickers were created. You can get your own screen printed, die-cut vinyl stickers created with your designs through Sticker Robot. If you want to attend the upcoming WMC Fest and see a ton of great bands, speakers, and designers, tickets go on sale soon at http://wmcfest.com.
Film is printed for each color. Cyan, Magenta, Yellow and Black. The film will be used to expose the screens.
After I placed my reference photo into my document, I rotated it and cut out just the arms and hands. The rest of the photo is unnecessary. I also went ahead and blocked in some additional reference like perfect circles, real fonts, starburst lines, and framing for the die-cut sticker.
Tip: The sample uses an Offset value of 12 points, and Joins is set to Round to create a rounded corner (use Miter for pointed corners, or Bevel for squared corners). The Miter limit is set to 4. You may want to choose a higher limit for shapes with acute angles.
Before I start illustrating, I need to find a reference image for my holding hands. While my sketch is OK, I want the proportions to be accurate. I asked Bill to shoot a photo of my wife and I holding hands. It doesn't have to be perfect, but I want to at least get the pose correct so I can manipulate and illustrate it in Photoshop to my liking. Here is our reference photo:
I reduced the opacity on my reference to something like 25% so I could start drawing on top to create the illustration. I use my Ye Ole Wacom Intuos 3 tablet and my brush settings are below. There are better drawing tablets out there, but this has served me well since 2006!
Popular Posts 32 Amazing Pop Culture Hero Portraits… Sticker Tutorial: How to Make Custom Laptop Stickers 5 Tips On How To Print The Best Quality Full Color Stickers Tutorial: Drawing, Designing and Printing Die Cut Stickers 10 Visual Artists You Should Be Following on Instagram
Now that I've got the drawing done, I do what every sticker addict would, prep for sticker printing. For this tutorial I am using Adobe Photoshop CS5 on an iMac.
Related Images of Die Cut Sticker Drawing Printing Tutorial