Die Cut Outdoor Stickers
round stickers Die Cut Outdoor Stickers
round stickers Die Cut Outdoor Stickers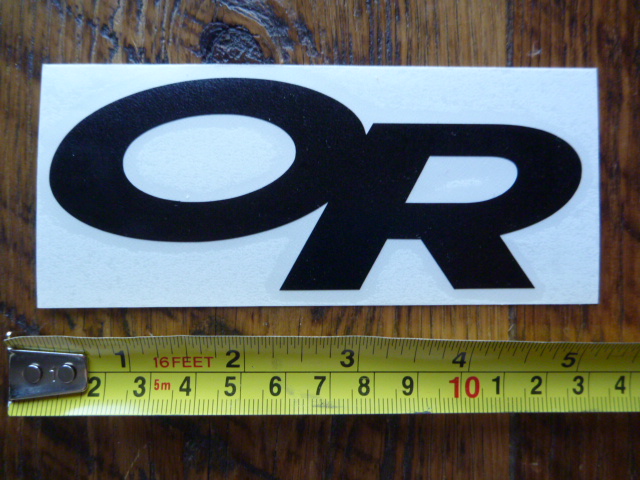 Unlike Digitally Printed Stickers, our Outdoor Stickers will last the test of time when applied to vehicles, boats, farm and construction equipment, sporting equipment, heating and air conditioning units, outdoor venues like ski resorts, rodeos, race tracks and just about any outdoor application you can imagine.
100% UV Protected & Weatherproof Any Size. Any Shape. True 5 Year Outdoor Capability Order Custom Stickers
Over the years, we have printed stickers for thousand of customers with various outdoor needs and there's a reason they keep coming back for more..
Our proven style of one on one service through e-mail or phone makes our process incredibly simple and controlled, with results you can trust.
Since 2005, we have produced high-quality custom vinyl stickers (sometimes called custom decals!) in-house at our facility in West Virginia.  We utilize the best printing technology available today to produce durable, outdoor ready, beautiful custom stickers.
Full Color.  Custom vinyl stickers printed onto White Vinyl.  Cut to any shape.  3+ year outdoor life.
Home My Account Cart Order Now Custom Stickers Die Cut Stickers Circle Stickers Oval Stickers Square Stickers Rectangle Stickers How to Order Custom Stickers Products Custom Vinyl Stickers Die Cut Stickers Sticker Sheets Circle Stickers Oval Stickers Square Stickers Rectangle Stickers Bumper Stickers Sticker Hang Tags Sticker Packs Cut Vinyl Decals Templates Samples Custom Sticker Samples Die Cut Stickers Samples Sticker Sheets Samples Circle Stickers Samples Oval Stickers Samples Square Stickers Samples Rectangle Stickers Samples Sticker Hang Tags Samples Sticker Packs Samples Bumper Stickers Samples Vinyl Decals Samples Request Samples Unique Projects Help Contact Us Sticker FAQ Vinyl Sticker Material Details Kiss Cut VS.
Die Cut Stickers Sticker Hang Tags Easy Peel Stickers Accepted File Formats Rich Black Ground Shipping Time Art Requirements
Standard Production: 7-10 days Rush Production: 2-3 days or less Free Shipping via USPS Priority mail Fast, Free Quotes.  Custom quote forms available on each product page High-Quality, affordable, custom stickers
Each full-color outdoor sticker is silkscreened onto our custom vinyl material with 4 generous coats of ink, and 3 thick passes of 100% UV protection clear gloss.
Apply to inside of window.  Adhesive on printed side.  Removes without residue.
Die Cut Vinyl Stickers Home Custom Stickers & Vinyl Decals Vinyl Custom Stickers Die Cut Vinyl Stickers
All of our stickers are waterproof & weather proof! We print the most durable stickers in the industry.
Our stickers are very fade resistant. We use extremely high caliber inks and seal all of our custom printed stickers with 3 thick coats of clear UV protective ink. That said, there is one undeniable truth when it comes to color and direct sunlight exposure over long periods of time. Colors fade.
Our outdoor stickers have a minimum 3-5 year effective capability against any weather.
Our premium weatherproof stickers are extremely durable and have an aggressive permanent adhesive that was created to withstand extreme elements.
We use only name brand materials, ink and laminates for a focus on print quality and durability.
We produce every sticker in-house, with top of the line printing and cutting equipment.
Single color vinyl cut stickers.  No background when applied.  Clear application tape for an easy install.
We stand by the fact that our Sticker quality is unmatched, but we want you to test the application on your end. Order some Sticker Samples to see for yourself.
The technical term is Photo Degradation. Some objects may be more prone to fading, such as dyed fabrics and watercolors. Other objects, like our outdoor silkscreen stickers reflect the light more, which makes them less prone to fading. But over time and with direct exposure to ultraviolet light, eventually all colors fade. This is true for cars, space shuttles and stickers too.
Since 2005, we have been producing durable, high-quality custom stickers online.
Below you will find the template for our Custom Die Cut Vinyl Stickers. You can adapt this template to be whatever size you need, but it offers good tips for file prep and helps us manage your artwork. Just remember to prepare your file according to our Artwork Requirements. Also read our FAQ if you have any questions. If you still have questions, Contact Us.
Suitable for indoor & outdoor use (Up to 5 years fade-free!)
They're the kind of stickers you see stuck to a ski-lift and 10 extreme winters later, they're still shining in all their glory.
You can rest assured that custom stickers from StandOut Stickers are the highest quality available. We constantly reinvest in our company to offer the best quality materials and printing technology for you!
Silkscreen sticker printing (and especially our silkscreen stickers) are the best possible quality if you are looking for durability.
Sea Shepherds, The Peace Corps, Naish Water Sports, Google Cars, Kona Mountain Bike Co., U.S. Armed Forces, Heli Ski USA.
Be seen at night!  Full color stickers that reflect in full color.  Outdoor ready to any smooth surface.
FREE digital proof with all custom stickers ordered. We won't print stickers until you're happy. FREE shipping on all orders to the contiguous USA with code FREESHIP. Two finish options! Original Gloss or Matte Finish to give your stickers a silky smooth look! We constantly reinvest in ourselves to always have cutting edge sticker printing equipment! We setup, print, cut, pack and ship your custom sticker sheets in our 16,000 sq.
ft. facility located in Medina, Ohio. Fast Turnaround to meet your tight deadlines! (3-5 business days) Live In-House Customer Service Chat to ask questions about stickers right on the site! High quality sample photos to see our quality before you buy! Trusted by global brands including Disney, Twitter, Google, and many more.
High quality Sticker Templates make sure all stickers ordered come out perfect every time!
Outdoor Clear Vinyl.  Full Color Printing onto Clear Vinyl.  Cut to any shape.
"It's nice to know I can pick up the phone and talk to someone about my custom sticker/decal order; it really helped us out in getting this project done accurately the first time." "We had our first custom die cut stickers made almost 5 years ago and they are on our vehicles and still look amazing!  As other projects come up, we're glad to have a company we can rely on.
"
Does your project have a tight deadline?  More than likely we can meet it, simply let us know how we can help.
When applied properly to a dry, clean surface, our Stickers will tolerate brutal ocean waters, sun, sleet and snow.
Eye-popping full color graphics from cutting-edge printing tech
Large stickers made for a variety of applications using a variety of materials.  Apply to car doors, signs, walls and more.
Any Shape, Any Size! Why would you buy custom vinyl stickers from anyone else when ours are the most durable in the industry and are fully customizable-down to the shape, image and quantity! Our stickers work well indoors and outdoors, with a heavy-duty waterproof laminate that adds 3-5 years of extended outdoor protection! Vinyl stickers are the only type of sticker that will give you a high quality appearance in outdoor environments, so don't settle for less.
Let StandOut Stickers handle your custom vinyl sticker order and see what we mean when we say our vinyl stickers are the gold standard. As low as 1.8 cents per sq inch.
We don't know of any other sticker printers who have such an aggressive strategy for combating weather. That said, over time, especially when placed in direct south facing sunlight, stickers will begin to fade. Some colors fade faster than others. Yellow tends to be the first color to fade, followed by magenta, then cyan and although it will take a very long time, finally black.
A single sticker placed on the north side of a stop sign will hold its rich color for at least 5 years, usually much longer. The same sticker stuck to the south facing side of the same stop sign, where it is exposed to direct sunlight for all day, will begin fading much earlier. Under these rare circumstances, this can happen as quickly as 8 or 10 months from initial placement.
15% OFF Circle Stickers! CODE CIRCLE15  (Thru 7.27.18) Order Custom Stickers from $25! Production Time: 5 Business Days  (After proof approval)
Fill out our Free Quote Form on any product page and a sticker specialist will e-mail you a custom quote the same business day.
Free Shipping on all Orders* FREESHIP *Orders shipped to Contiguous USA. View Offer Details
To get started, select a sticker type and receive a Free Quote the same business day.