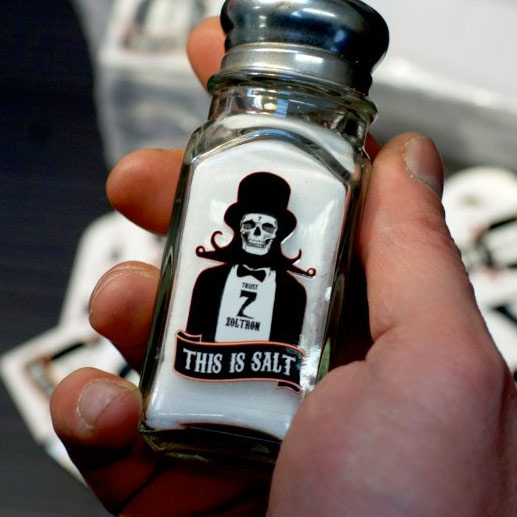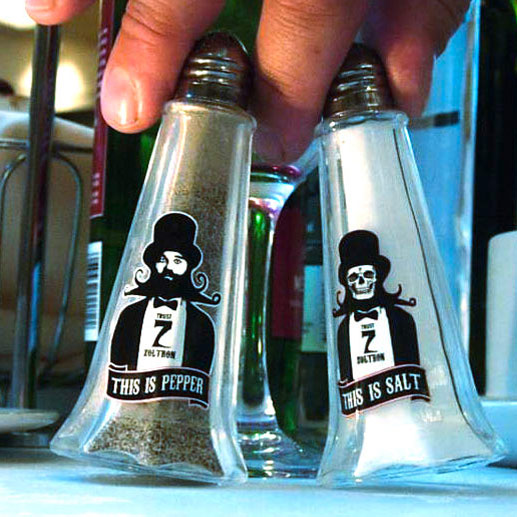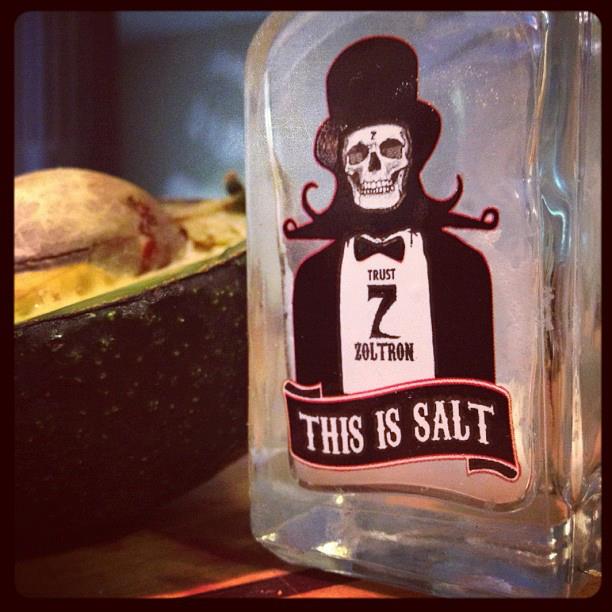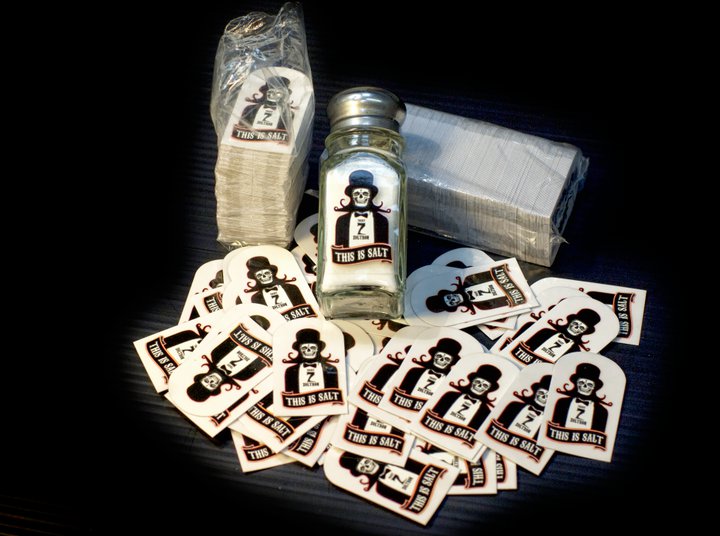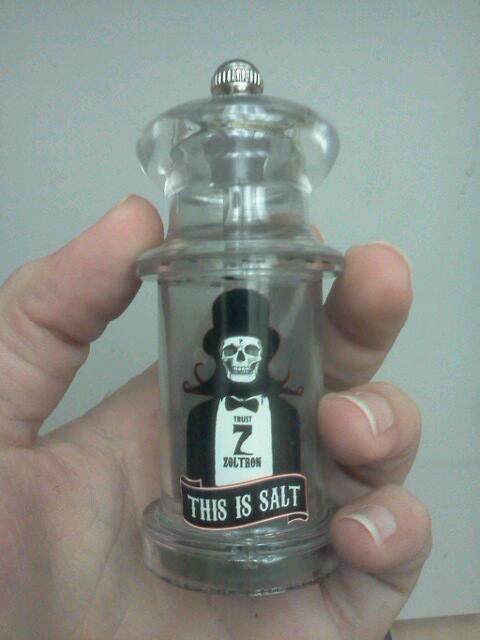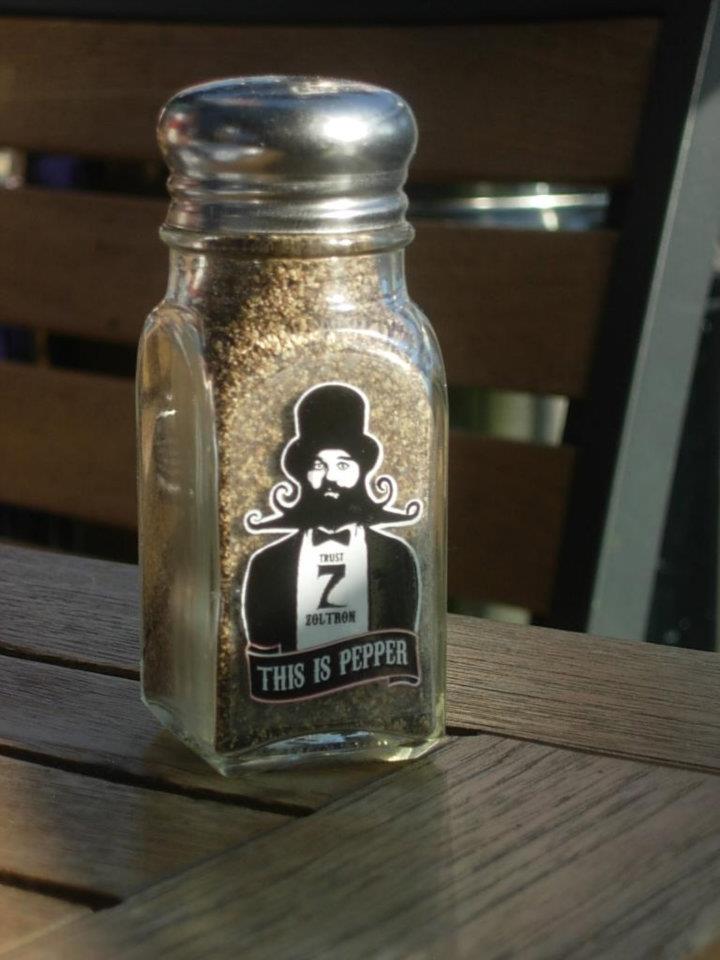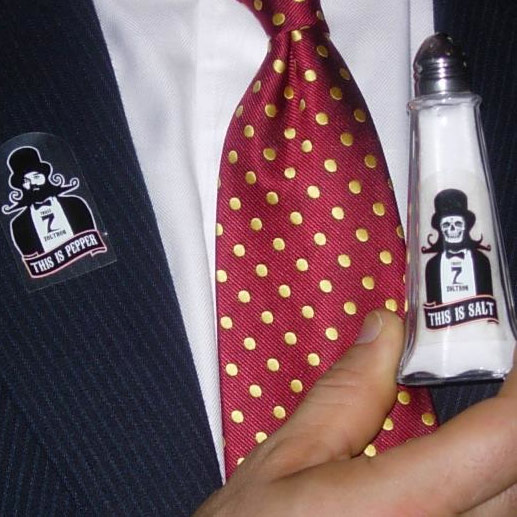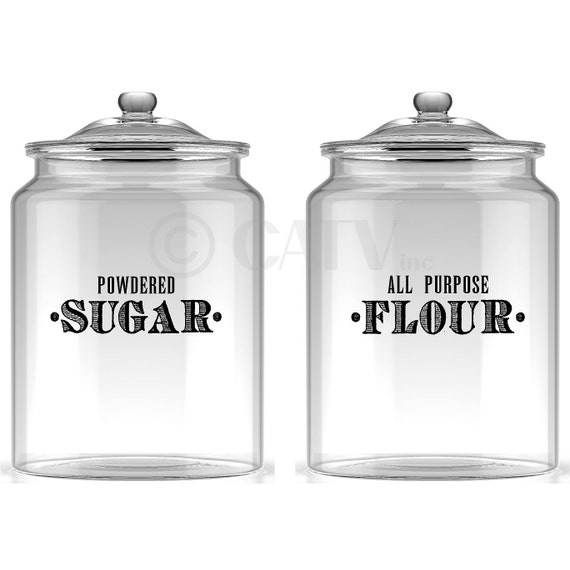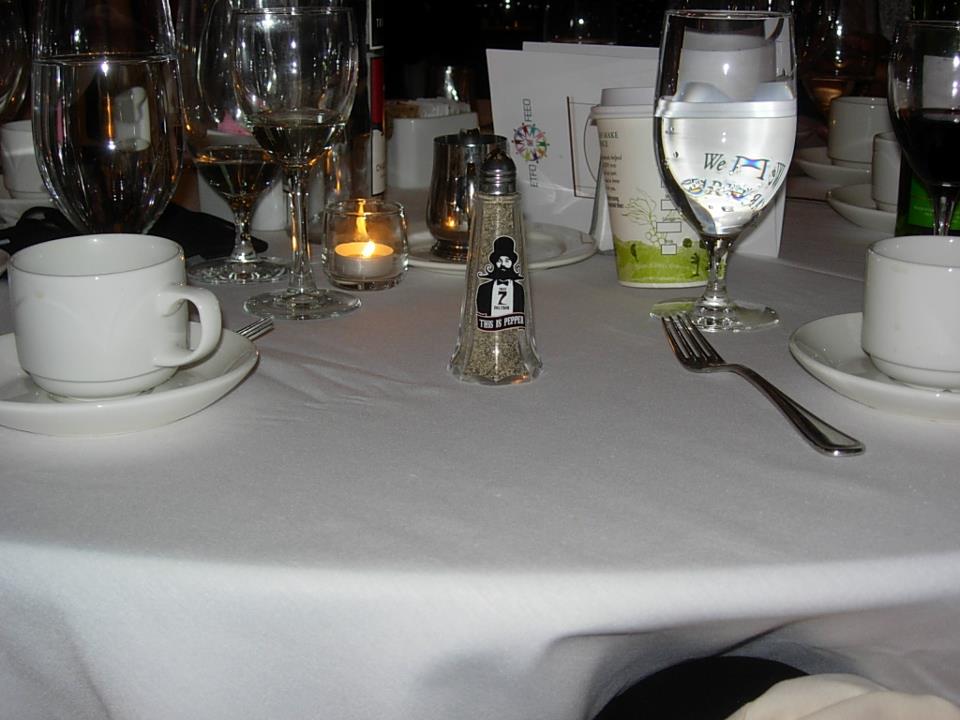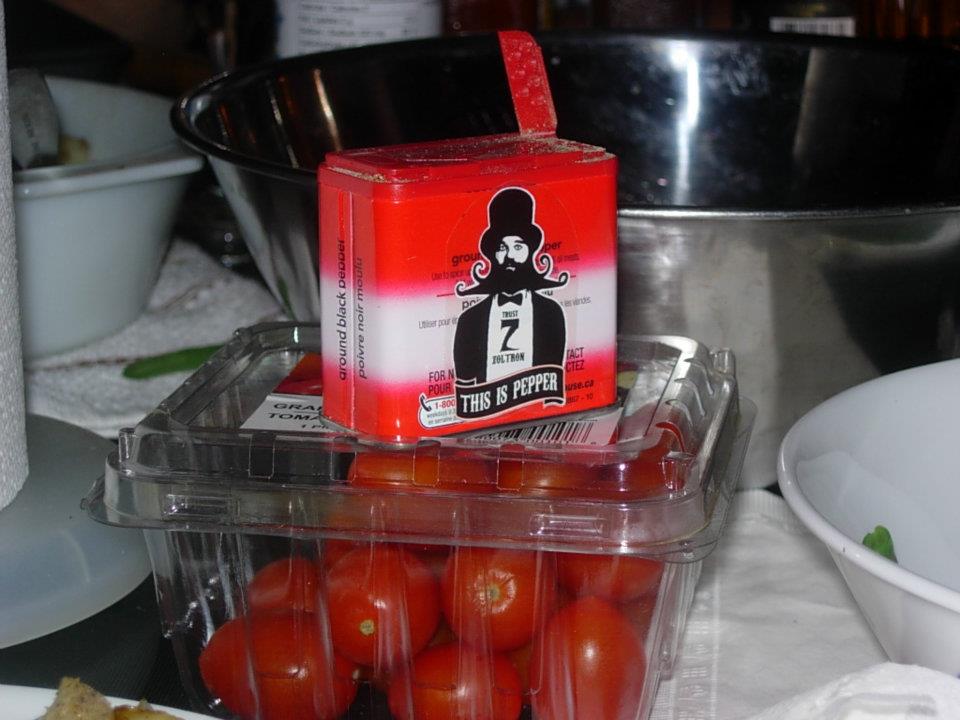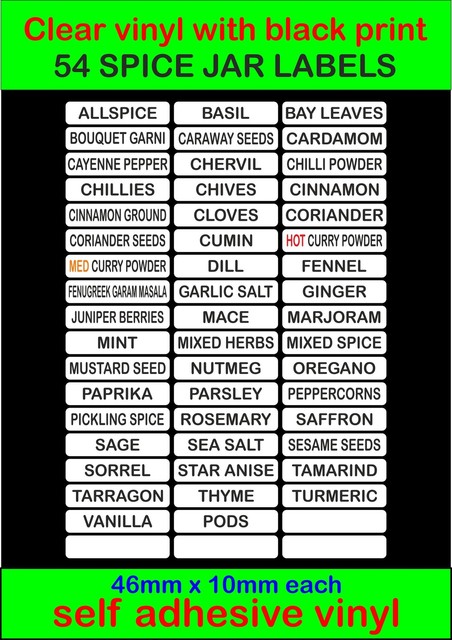 Word has it that Zoltron will send you enough Salt and Pepper Stickers to cover every single shaker in your establishment. If you are so inclined or know someone with the need, get in touch with Z here.
Interviews Tyler Stout You Are Beautiful Prolly is not Probably Skinner David Lanham Gig Art Posters Supersonic Electronic All Hail the Black Market Hydro74 Ty! Billi Kid Shawnimals Cryptik Mishka NYC ABCNT Travis Millard Dronex Jose Pulido Marq Spusta 1000 Styles Chump Magic Zombie Yeti Citizen Panic Jimbo Philips
Got a Restaurant ? Want to Give Your Salt Shakers a Facelift..?
now that's some some fancy, custom, clear vinyl, die cut sticker printing by sticker robot. 20 stickers for $10 Adorn your local diners. we sent lieutenant pike, the uc davis 'pepper spray cop' some stickers for his pepper spray can.
merry xmas lieutenant.
Here's a gallery of images of the See-through vinyl stickers that we printed for Zoltron's "Diner-Adornment" project.
Popular Posts 32 Amazing Pop Culture Hero Portraits… Sticker Tutorial: How to Make Custom Laptop Stickers 5 Tips On How To Print The Best Quality Full Color Stickers Tutorial: Drawing, Designing and Printing Die Cut Stickers 10 Visual Artists You Should Be Following on Instagram
So this guy Zoltron walks into a restaurant and orders dinner…
Salt and Pepper Stickers… Pretty Clever. By Zoltron Black Oct 19th Artist Stickers Comments
The Zoltron stickers were designed to fit perfectly on these generic condiment dispensers. By printing transparent stickers, the Salt shakers look as is they were created at the factory with Zoltron's logo.
Ok, this is pretty clever. We printed some clear vinyl stickers for the folks at Zoltron Industries. Most restaurants here in the U.S. have a fairly standard set of Salt and Pepper shakers, two or three inches tall, glass, metal cap…
It turns out that it's Salt. a wonderful mineral that is used to make food taste good… And there's Pepper too. Well now, with these highly self-evident Salt and Pepper Stickers from Zoltron Industries™, you can clearly label those cryptic & mysterious glass condiment containers once and for all. In fact, once you have these stickers in hand, you are encouraged to adhere them to every pesky salt and pepper canister that you come across.
Hell, they even sent the UC Davis "Pepper Spray Cop" some free Pepper Stickers. I'd mark this down as a winning campaign.
(It is said that decorated envelopes are rewarded with extra stickers…)
You can Order a set of 20 Salt and Pepper Sticker for $10 Right Here.
Clear Vinyl Salt and Pepper Stickers from Zoltron By Sticker Robot Mar 30th Clear Vinyl Stickers Comments
Have you ever wondered what that white stuff is, inside of the little glass container with the permeable metal lid, on the table, in the Restaurant. At the Diner. In Your House..?
Free Salt and Pepper Clear Stickers by Zoltron! Read More for Details.
1. For the moment, Zoltron is Giving some away for Free. It requires sending a S.A.S.E. to:
Categories Art & Design Artist Stickers Clear Vinyl Stickers Custom Stickers Customers Stickers Die Cut Stickers Free Stickers Interviews Kiss Cut Stickers Laptop Stickers Political Stickers Random Awesomeness Random Stickers Social Sticker Campaigns Sticker Deals Sticker Friends & Fans Sticker Packs Sticker Tutorials Street Art Stickers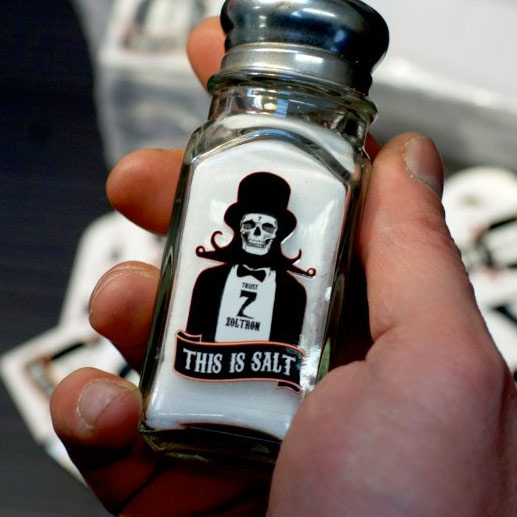 Related Images of Clear Vinyl Salt And Pepper Stickers